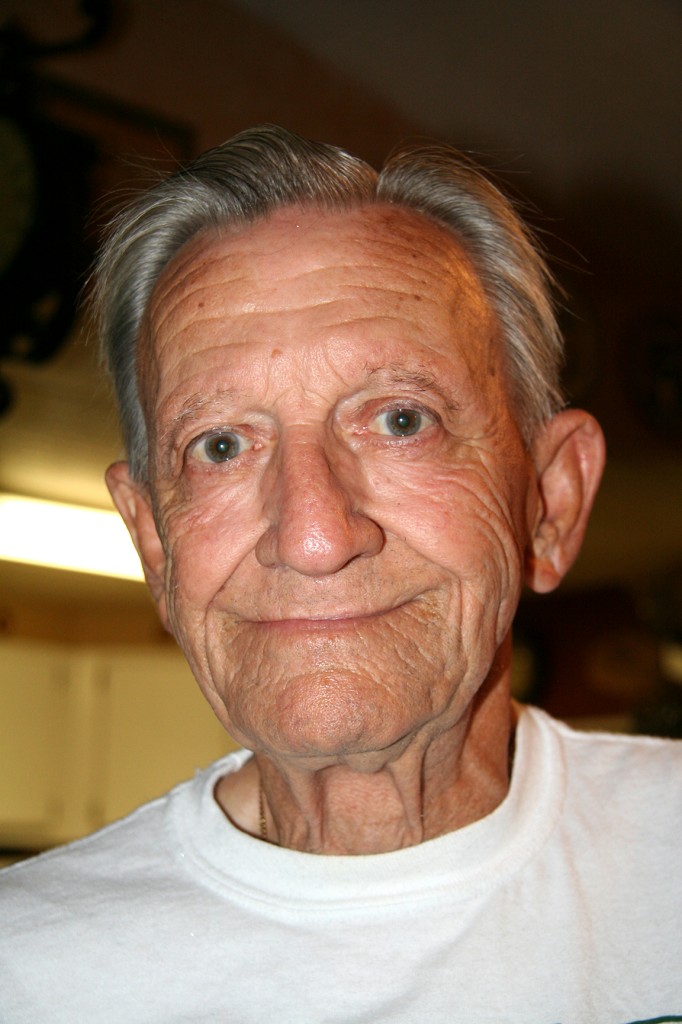 Saturday, September 15, 2012, my grandfather Santo Edward Masaracchia passed away from complications related to the shingles virus. He was 84 years old. Paw Paw, as my brothers and I called him, was very influential in our lives. We were very close after being neighbors for 28 years. I gave the eulogy at his funeral as a tribute to how wonderful and loved he was by all. I will always miss him, but I know he will always be with me.
Paw Paw was constantly in motion. He was a stubborn man, who did things his way and didn't care what people thought about how he did them. From the way he pronounced words (Lowes as Lures, Wal-Mart as Wal-Mark), to the way he messily painted things he thought needed sprucing up around the yard, to his ample use of duct tape and super glue to fix things, to the 1970's era western style denim suit he wore to my cousin Johnny Schillage's wedding. He ran on a different frequency than everyone else I've ever known, and it was evident by the constant twitch of his leg when he was attempting to sit or stand still.

He was a hard worker. He retired from the LA Revenue Dept. and worked 17 years for the Tangipahoa Sheriff's Dept. as a Tax Collector. He worked nights at Lil' Johnny's and Murphy's to make extra money. After he stopped working for the Sheriff and in my earlier days working for the City, he would come to visit me and then walk next door to see Jinnie Wilson, the City's Revenue Supervisor to "make sure she didn't need any help". He would have worked until he got sick a few weeks ago had he had the chance. He spent many hours doing notary work, mostly for free, for the people he cared about. He had things to do and his leg twitched the entire time.

He loved working in his yard and was known for his obsession with cutting the grass. The first 28 years of my life are riddled with memories of weekend mornings waking up at 7 AM to the sound of his lawn mower running outside my window. He would sling rocks and break windows, hit things and break them, and blow grass everywhere. After the carnage was over, he was happy "because the grass looked good". He would sit by his back door and look at his work and that leg would be twitching away.

He had a heart of gold and he loved people, young and old. He had a daily routine and the next day was planned before he went to bed each night. He would leave his house every morning around 4 AM to meet his friends for breakfast and to get the town gossip before making his rounds to his other stops. It seemed everyone in Hammond knew his routine. He didn't want to miss anything and would navigate the crowds at downtown events so he could say he was there, and he would even dress in his old Sheriff's Uniform and attend yearly Halloween parties I threw in college. He loved local law enforcement, and always made it a point to make sure he talked to officers when he saw them. I know this because I've been nicknamed "little Santo" at work by the officers that knew him. Oh, and guess what his radio handle was when he worked for the Sheriff's department? "Shake-a-leg".

When I was a kid, and as an adult, he would call me, or come to my house when I lived next door, or to my office and say "come to my house, I have something for you". I would go over there and he would always have some kind of knick knack, a flash light, a tire pressure gauge, a clock, 5 cases of Coca Cola's, something to give me. He'd always be standing there shaking that leg.

I've learned many things from him over the years, but I think the most important ones are to always follow your heart, work hard and be honest above all. Do what you want to do, how you want to do it, as long as you can, and don't worry so much about what people think. Stay busy and you will have a long full life. And when it is over and all the work is done, you can rest easy and let the twitching stop.